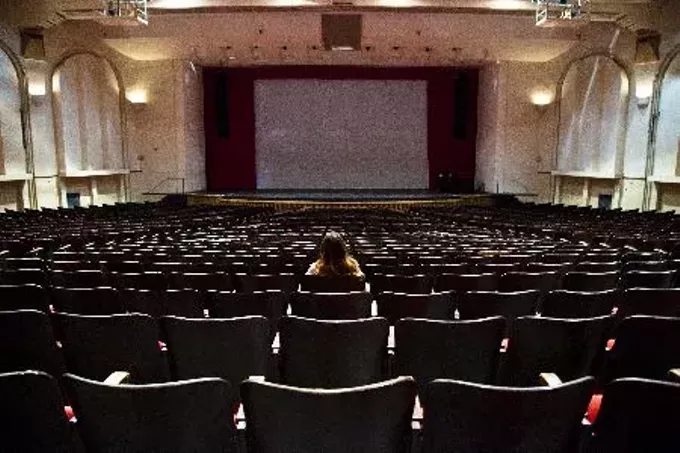 Centennial Hall at the University of Arizona is said to be the home of many ghosts and spirits.
Students enter the projection room at Centennial Hall. The ghost of a projectionist named Peter is said to haunt the room.
Jo'Ann Ruhl, a Tucson medium and astrologer, considers the spirits and ghosts at Centennial Hall.
A hallway at Hotel Congress. Spirits are said to walk the hallways at all hours of the night.
Inside Room 220. Hotel employees have reported finding butter knives there like the ones Vince used as screwdrivers to fix things around the hotel.
The image of a guest in Room 242 is reflected in a painting of the Virgin Mary that hangs on the wall.
Colleen Concannon, the owner of the Manning House, enters the basement.
Concannon looks out at the front lawn of the property.
The driveway leading to the Manning House.
This door leads to roof access at the Manning House. The only way to enter the door would be with a ladder—or to have ghostly superiority.
A view from the catwalk above the Fox Theatre.
Looking down on the theater from the catwalk.
Skip McElfresh, a projectionist at the Fox Theatre, works on film reels in the supposedly haunted projection room.
There have been numerous sightings of ghostly figures throughout the Pioneer Building. One of them is said to be a young girl looking for her mother, a maid who perished the night of the fire.
The locked door to the top floor of the Pioneer building, where a Hughes Aircraft Co. Christmas party was held on the night of the fire.
There have been numerous reports of strange activity in the Pioneer Building. A former coffee-shop manager said he once entered the elevator to go to the basement and was instead taken to the top floor. He said he felt a presence enter the elevator, and that it stayed in the elevator on the way down to the basement.