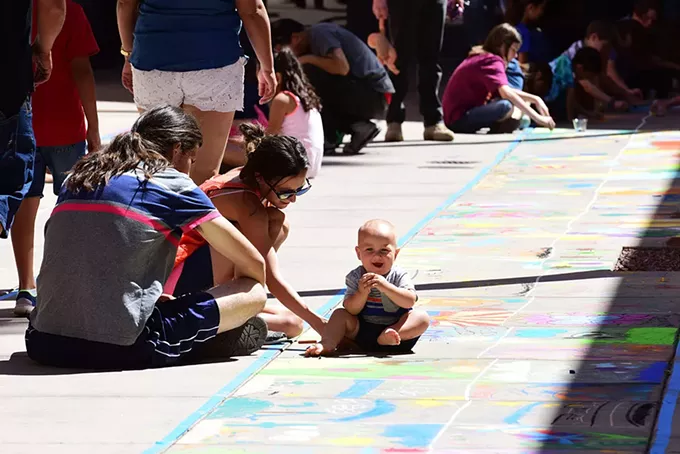 Rebecca Noble
Kasey and Samson Lybbert draw with chalk while their 10-month-old son Jazpyr giggles. Operations manager of SAACA Shelby Scheer describes the event as "a really good fusion of art and business and being able to promote the arts not only for professionals but also for kids. Chalk art is fun, it's tactile, it's color and it's very attractive to passerby."
Rebecca Noble
Kids hand off a piece of chalk of a coveted color.
Rebecca Noble
Francisca Coronado looks on as nature and wildlife artist Linda Harrison-Parsons works away at a large mural. In addition to the two community participation murals for passerby, the Chalk Art Festival had 16 professional artists making murals throughout Park Place mall.
Rebecca Noble
SAACA volunteer and Santa Rita High School senior Kaelyn Bartosh takes a moment to make her contribution to the UA road trip themed community participation mural. An artist herself, she decided to complete her high school's required volunteer hours with SAACA because she "likes looking at other people's art—doesn't matter if it's beginner or advanced art."