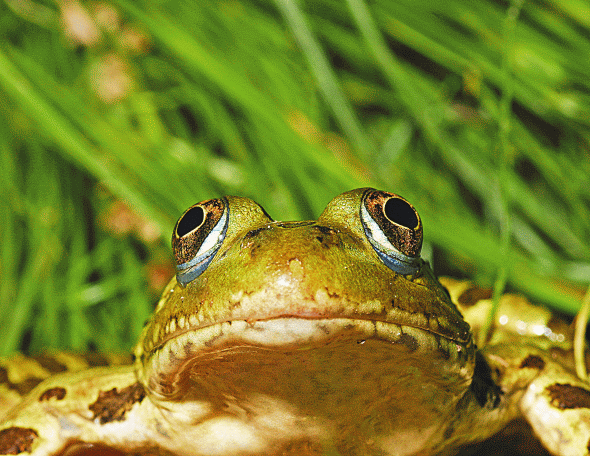 Gary Nafis
The once-plentiful Chiricahua leopard frog now occupies only a few "isolated pockets of aquatic habitat," many of them in and near the Rosemont site, including Cienega Creek. The mine "would significantly reduce surface water flows into Davidson Canyon and Cienega Creek," putting the threatened frog's habitat at risk.
Alex Badyaev
Lesser long-nosed bats are crucial to the local ecosystem, helping pollinate our signature saguaros. Each year, when the agaves bloom, females and their young swarm by the thousands to "forage and roost in the agave-studded Sonoita Valley." The mine and its operations would strip the land of 200,000 to 300,000 agaves; mitigation plans call for growing just 36,000 replacements on the tailing piles.
Gooch Goodwin
This sweeping western vista, with its long views of sky and land, would be forever scarred by the proposed Rosemont Mine. The open pit copper mine would carve out a giant hole -- one mile wide and 3000 feet deep -- into the pristine landscape of the northern Santa Rita mountains. Nearly 300,000 trees would be felled.
Ron Coleman
This rare orchid is found only in pockets of Southern Arizona; 40 percent are located within the outlines of the proposed mine site. The U.S. Forest Service ordered changes in the mine's outlines to protect the Coleman's coralroot, but critics believe that even with those alterations the orchid would be at risk.
Filip Pizlo
The pronounced lights on the southern horizon are Nogales, Arizona and Sonora.
Brian Forbes Powell
Pima County's only vineyard, Charron Vineyards, gets its water from an aquifer fed by Davidson Canyon. The mine would reduce that water supply.
Cheryl Rogos
The mine's waste materials would be piled up on adjacent public land. The new fake mountain of tailings would "soar 700 feet above the existing terrain – well over twice as tall as the tallest building in downtown Tucson," the curators write. The pit itself, to be abandoned after 25 years by Rosemont, would become a lake covering 213 acres – but the water would be toxic.