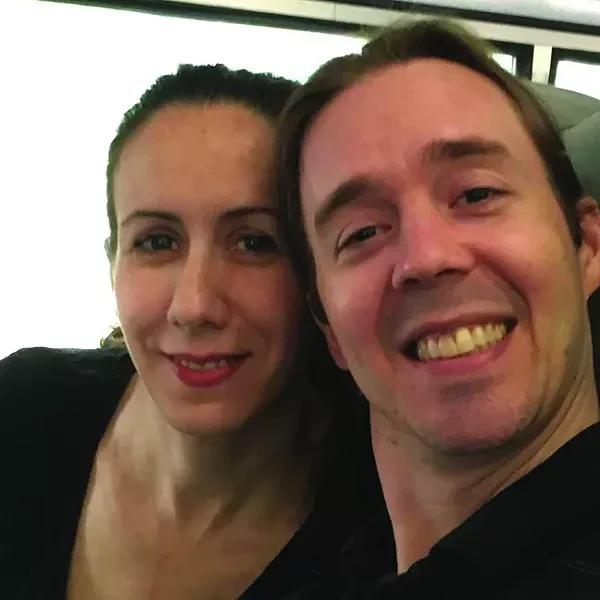 Laurie Draegeth Facebook
Laurie Draegeth, left, and her husband, Trevor. Laurie was found dead in their Oro Valley home the morning of Tuesday, Feb. 12.
Trevor Draegeth and his wife, Laurie, were allegedly involved in an argument the night before the latter was found dead in their Oro Valley home.
When Oro Valley Police Department Officers arrived at the East Brearley Drive residence the morning of Tuesday, Feb. 12, Laurie Draegeth, 40, was found face up in her bed with a gunshot wound to her left eye. She was pronounced dead at the scene.
Her husband, Trevor Draegeth, 37, has since been arrested for first-degree murder in connection with his wife's death. According to the medical examiner's report, she was killed by a "perforating gunshot wound to the head." The death was ruled a homicide by Eric D. Peters, MD from the Pima County Office of the Medical Examiner.
According to the interim complaint filed with the Pima County Justice Court, Draegeth told officers he and his wife had been arguing about finances the night before. After going to sleep, Draegeth said he was awoken by his wife, who allegedly wanted to continue the discussion.
Draegeth told officers he then left the bedroom and entered the kitchen, though the argument allegedly continued, drawing him back into the bedroom. Upon entering the room, Draegeth said his wife "brandished a handgun and shot at him twice."
Draegeth said his wife then shot herself while he embraced her "in a side hug," next to their bed.
He added that he owned the gun, though it had gone missing in their home.
After his wife died, Draegeth told officers he laid with her for roughly ten minutes, and manipulated her body to make her look "pretty." In the complaint, Draegeth also admitted to picking up casings and dropping them back on the floor.
Draegeth then told officers he removed the blanket from the bed and his shirt and attempted to wash them in the bathtub. He also cleaned the handgun with a bar of soap and the blanket. After cleaning the weapon, Draegeth told officers he placed the weapon on the floor by the front door, and called the police.
The entire ordeal reportedly took about an hour.
Over the course of the investigation, an officer noted in the interim complaint that his wife planned to leave him, and was "kicked out" of the house days before the incident. Investigators did not discover any signs of a suicide, and noted in the statement of probable cause that she was "excited" about an upcoming trip with her two daughters.
The children, who were reported to have been in the home at the time of the incident, have been in the custody of Draegeth's parents and an officer indicated in court records that investigators fear the man may try to leave, as he has access to a passport, and could take his children with him.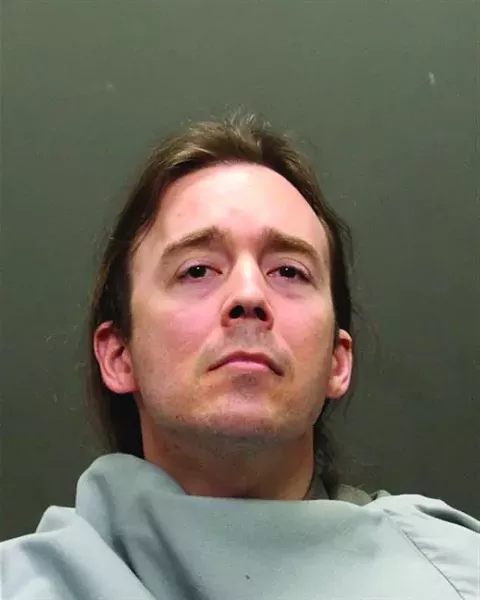 Courtesy Oro Valley Police
Trevor Draegeth was arrested Wednesday, March 6.
An officer was later told during an interview by Draegeth that "he had [$1 million] and owns a successful law firm."
Draegeth Law is listed in the Town of Oro Valley's Business Navigator as a home business owned by Trevor S. Draegeth, Esq. According to the company description, the firm delivers "professionally hand-drafted estate planning services, including wills, trusts, powers of attorney, tax planning and asset protection," among other services.
Draegeth was arrested Wednesday, March 6 for first-degree murder by the Oro Valley Police Department and booked into the Pima County Adult Detention Center with a $10 million cash only bond. His next court date is set for Monday, March 19.
According to Oro Valley Police Department Public Information Officer Sgt. Carmen Trevizo, the last homicide that took place in Oro Valley was in 2013.
Tucson Local Media confirmed with Amphi Public Schools Communications Director Michelle Valenzuela that Laurie Draegeth was a substitute teacher for the district who was hired Oct. 31, 2018.
According to Pima Community College Media, Community and Government Relations Executive Director Libby Howell, Trevor Draegeth has been a part-time, "on and off again" online instructor since 2009 who was currently teaching two online history courses. Howell said his employment is currently under review, and that his courses have been taken over by different instructors.