Crazy, Stupid, Love.
Rated PG-13 118 minutes 2011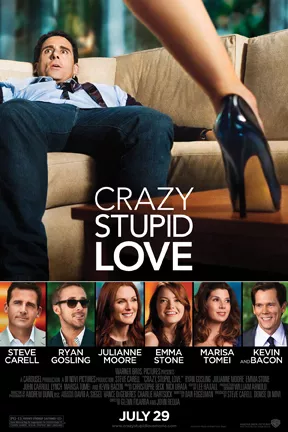 Steve Carell has left The Office to focus on making films, because he's in high demand as a comedic leading man--and because it's nearly impossible to do more than one film a year if you're the star of a TV series. Crazy, Stupid, Love christens this new chapter in his career, and it's one of his better all-around performances, playing a man coping with his wife's sudden demand for a divorce. He tries the singles scene (with help from lothario Ryan Gosling), and he tries to rekindle the romance with his ex (Julianne Moore). The film is sometimes touching, and it would be better off if it didn't go for big laughs at points when it so obviously does. Kind of ruins the mood. As good as Carell is, Emma Stone's trajectory continues to go higher and higher. She steals another movie without really trying.
Film Credits
Official Site: crazystupidlove.warnerbros.com/index.html
Director: Glenn Ficarra and John Requa
Producer: Steve Carell, Denise Di Novi, David Siegel, Vance DeGeneres and Charlie Hartsock
Cast: Steve Carell, Ryan Gosling, Julianne Moore, Emma Stone, Analeigh Tipton, Jonah Bobo, Joey King, Marisa Tomei, Beth Littleford, John Carroll Lynch, Kevin Bacon, Liza Lapira, Josh Groban, Mekia Cox, Julianna Guill and Zayne Emory