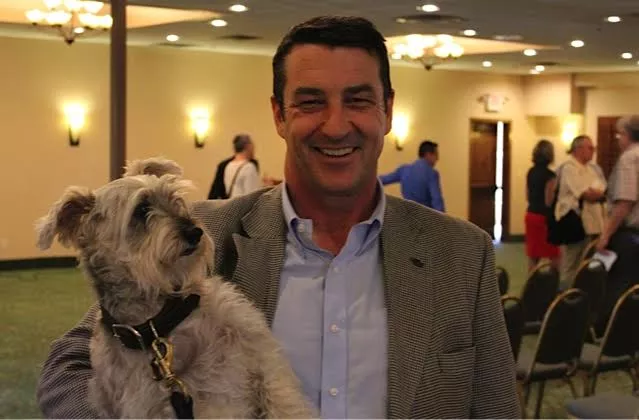 Jim Nintzel
Pima County Supervisor Ray Carroll said he and his dog Simon are supporting the bond package: "Simon told the people that if they supported the animal-care package, that he'd come back and support their seven questions. He's standing by his word."
As attorney Larry Hecker looked out across the dozens of people assembled for the county bond campaign kickoff at a downtown hotel, he spied three people in particular: Tucson Metro Chamber President & CEO Mike Varney, Southern Arizona Leadership Council President & CEO Ron Shoopman and tireless homeless advocate Brian Flagg.
Hecker asked all three: "Do you guys agree on this?"
After they said yes, Hecker smiled and asked, "Did you ever think that would happen?"
It was a moment that underscored a key point of the upcoming campaign to persuade Pima County voters to approve the bonds: There's a broad coalition supporting the county's effort to persuade voters to agree to support $815 million in bonds for road repair, economic-development projects, historic preservation, parks, open space and more.
The coalition was on display as environmental champion and bond committee member Carolyn Campbell—who arrived on bicycle despite the triple-digit temperatures—made the case for purchasing more open space, but also talked up the other proposals: "Neighborhoods deserve reinvestment. Affordable housing is a necessity. Job training and job creation are invaluable. And investment in community centers and parks is a basic piece of our community fabric. So I hope you'll join me in voting yes for open space and yes on all seven of the propositions."
Tom McGovern, the chair of Tucson Metro Chamber board of directors, said his organization "is most interested in one overriding issue, and that's job, jobs, jobs. Economic development depends on new jobs and one of the reasons that we're so keen on these bonds is the opportunity to create new employment to help drive our economic growth. This comprehensive bond investment strategy is really a grand opportunity for the residents of Pima County to invest in this community."
[jump] Joseph Blair, the former UA basketball standout who now runs a charity that focuses on youth basketball camps designed to build character and encourage education, made the point as well.
"It's all about collaboration and community," Blair said. "There hasn't been this kind of collaboration in a very, very long time and we have an opportunity today to be trendsetters in collaboration."
And Pima County Supervisor Ray Carroll, a Republican who supports all seven bond questions, brought his dog Simon to the kickoff event and joked that the small hound was also supporting all seven questions because Pima County voters supported a bond to build a new animal-care facility last year.
"He pays his debts," Carroll said. "Simon told the people that if they supported the animal-care package, that he'd come back and support their seven questions. He's standing by his word."
For all the warm feeling on a hot room on Monday afternoon, the county is going into the election at a time when people are still feeling uncertainty about the economy—and Hecker acknowledged that the bonds would be no slam dunk with the voters.
"This is going to be a tough election," Hecker said. "It's going to be a low voter-turnout election. It's going to take the active support of the coalition that is here today."
The opposition already has created a web site, pimabondfacts.com, that lays out various reasons to shoot down the bonds, mostly revolving around concerns about higher taxes.
Shaun McClusky, a former Tucson City Council candidate and frequent critic of county spending, said he was opposing all seven questions.
"If you look at what they do with the money they get, it's horrific," McClusky said. "(Pima County Administrator) Chuck Huckelberry should know that roads are the most important priority, not the 2 percent of the population that use the bicycle loop."
Here's a sketch of the individual bond questions:
• Prop 425 will provide $200 million in road improvements, including $160 million on road repair and pavement preservation.
• Prop 426 will provide roughly $93 million for libraries, job-training facilities and state land that is currently within the boundaries of Davis-Monthan Air Force Base.
• Prop 427 will provide more than $98 million for tourism promotion, including improvements for the Arizona-Sonora Desert Museum, Reid Park Zoo, Tucson Children's Museum, Old Pima County courthouse and other cultural facilities.
• Prop 428 will provide $191 million for park improvements.
• Prop 429 will provide $105 million for hospitals and clinics, Sheriff Department facilities and food banks and neighborhood reinvestment.
• Prop 430 will provide $112 million for open space and historic preservation, such as repairs at San Xavier Mission.
Prop 431 will provide $17 million for flood-control projects.