Rebecca Noble
Rudy Cortese, left, and Joel Leland, right, pick away at a bluegrass tune for passerby. The duo have been playing music together for 12 years and currently play together in the band Cadillac Mountain. Cortese grew up attending bluegrass festivals with relatives and starting playing music "to fit in" with the rest of his family. Leland became interested in bluegrass after listening to recordings of Tony Rice and Norman Blake. In addition to playing the winter and spring street fairs for the past several years, Cadillac Mountain has hosted an acoustic open mic night at The Hut every Sunday for years and performs at Public Brewhouse every first Wednesday of the month for the rest of 2016.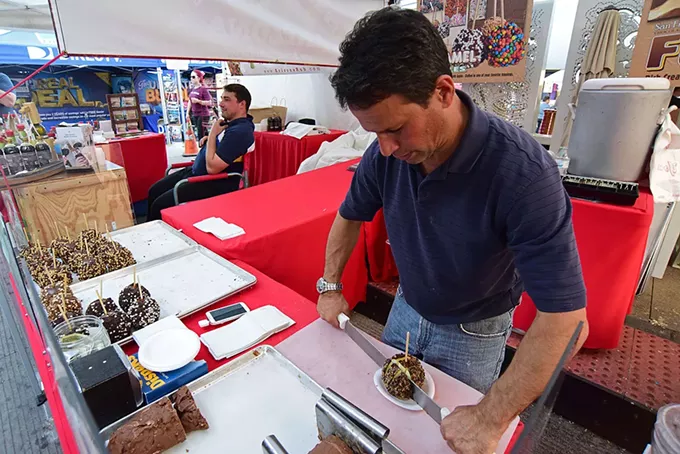 Rebecca Noble
Jay Levine, president of Phoenix-based San Francisco Chocolate Factory, slices up one of his few remaining chocolate covered apples for a customer. Levine started off with 25 full trays of sweets and ended with 1 after the final day of the street fair. San Francisco Chocolate Factory makes a variety of chocolate dipped and frozen desserts and makes 68 varieties of chocolate.
Rebecca Noble
"Ceramic sculptures that straddle the fence of cute and scary," according to their creator Chris Paulsen of 3sevens Pottery, sit on display in late afternoon sunlight. Paulsen now of Portland, Ore. was born and raised in Tucson and came back just to show his art at the street fair.