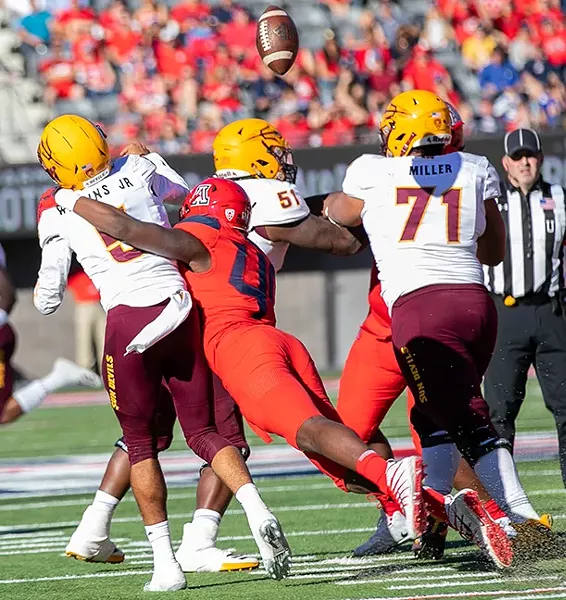 Photos by Simon Asher
Arizona State's Manny Wilkins fumbles a throw as he's sacked by Arizona's Jalen Harris
Josh Pollack lined up a 45-yard field goal in the waning seconds of last Saturday's Territorial Cup rivalry game against Arizona State with a shot at immorality. The fifth-year senior kicker, who made each of his first four attempts against the Sun Devils, needed to hit the long field goal to give Arizona its first win over their in-state rivals since 2016.
His attempt missed, sailing wide-right of the nearest goalpost, giving the visiting Sun Devils a 41-40 victory.
The loss was rather unfathomable for most of the day, with Arizona jumping out to 40-21 lead at the end of the third quarter. The one-point loss officially ended Arizona's season, as their 5-7 regular season record is not bowl eligible.
First-year Wildcats coach Kevin Sumlin described his first season in Tucson as a work-in-progress, with a myriad of injuries stifling a promising campaign.
"We want to be better and we had a lot of moving parts this year," Sumlin said. "The constants this year were our two linebackers, our walk-on center and J.J. (Taylor)… We also had the guys out at receiver that played well. As a coach you look back and are always looking to be better."
The Wildcats led for most of the day, with junior quarterback Khaliil Tate connecting with senior receivers Tony Ellison and Shawn Poindexter for passing touchdowns in the game's opening half.
The home side tacked on two more scores in the third quarter; running back Gary Brightwell dashed 35 yards for the team's first touchdown of the second half.
Ellison followed that up with his second score of the game, snagging an 8-yard pass from Tate to give the Wildcats a 19-point lead in the waning minutes of the third.
Things shifted in the final quarter, however, with ASU kicker Brandon Ruiz hitting two field goals, and ASU QB Manny Wilkins scoring on an 11-yard rush.
Perhaps the biggest mistake of the game came in the fourth quarter, when sophomore running back Taylor, who rushed for a game-high 144 yards, fumbled deep inside Arizona territory.
The Sun Devils pounced on the ball, scoring a touchdown on the game's next play to take the lead with just over three minutes remaining.
Photos by Simon Asher
Arizona's J.J. Taylor, right, tries to spin away from Arizona State's Ashari Crosswell.
Sophomore linebacker Colin Schooler attributed much of the team's fate to bad luck, while taking responsibility for the defense's inability to prevent a fourth quarter ASU comeback.
"It's college football; anything can happen at any moment," Schooler said. "We need to take care of the ball better on both sides, obviously. There were two balls on the ground that the defense could have gotten this game that we didn't, and if we get those, that's a huge momentum swing."
The Wildcats took over possession on their final drive and marched methodically downfield, gaining 54 yards on 15 plays. The team was able to get the ball inside the Sun Devil 30-yard line with under a minute to play, but opted to play it safe, running the ball up the middle to give Pollack an optimal kicking spot.
Unfortunately for Sumlin's squad, Pollack's try drifted off-course shortly after it left his right kicking foot, giving the Sun Devils a 41-40 victory in Tucson.
Sumlin summed up the day's disappointing finish in his postgame comments, attributing much of it to the Wildcats' consecutive turnovers in the fourth quarter.
"The biggest issue was the two turnovers on our side of the 50," Sumlin said. "With that and the time that we used to go the length of the field, the two turnovers on our side of the field cost us. You're not strategizing to turn it over twice on your side of the 50."