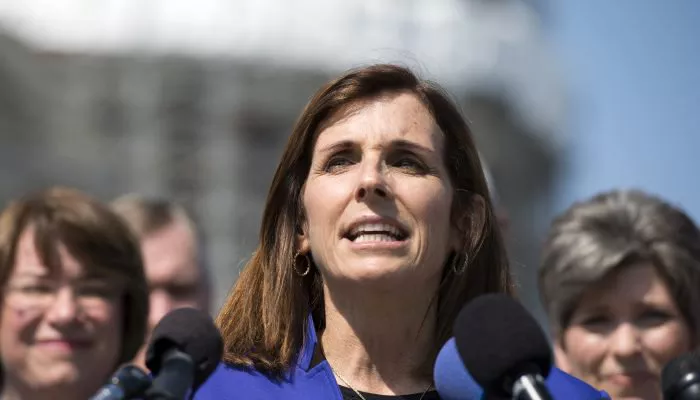 Will McSally's embrace of Trump hurt her in November?
Politico looks at
how Democrats once again hope that they will win some statewide races
in Arizona:
A new POLITICO/AARP poll shows Democrats ahead by 7 points in generic ballots in both the governor's and Senate races. But to actually win statewide elections in this highly ethnically polarized state, Democrats will need to juice turnout among younger and especially older Latinos, who have tended to vote at lower rates than other voters in their age group — who also are trending ever more Republican. And not just in purplish Arizona: All across the U.S. Southwest, Latino voters could be the key to flipping Republican strongholds from red to blue, if only the Democratic Party can figure out how to get enough of them to the polls. Solve that mystery, and even a GOP-dominated state like Texas could suddenly be in play.
As Politico notes, it's hardly the first time Democrats have gotten their hopes up. Still, they are hoping that this time, Trump's presence really will get out the Democratic—and Latino—vote:
So Arizona does look increasingly like a battleground after years of wishful thinking on the left, and all it took was the surprise election of a certain Manhattan real estate mogul. But it's going to take an unprecedented amount of Latino turnout for Democrats to win the big statewide races, and it's likely to get ugly.

Garcia, the Democrat running for governor, expects Ducey to fight hard on immigration and identity issues, perhaps with ads tying him to MS-13, the violent Central American gang. But he's betting that such an approach ultimately will hurt Ducey—particularly among older Latinos who worked so hard for decades to integrate into American society.

"I'm thinking of my dad," he says. "It is going to backfire because I can think of my father saying, 'Let me get this straight. You served, and they're going to put this on you? What else do you need to do? ... They're still going to tag you because you're brown?' I believe that his generation is going to push back. Remember, this was a generation that fought for a place. And they look at someone like me and are proud of the role they played in allowing someone like me to have a place."